The History of Raimondi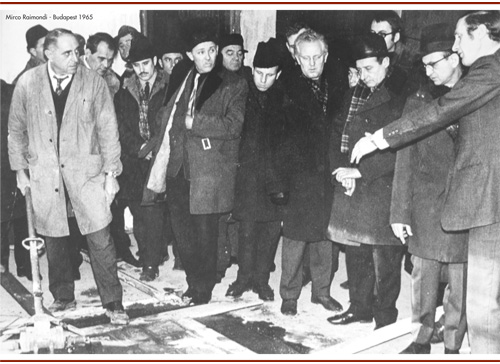 Since 1974, innovative technologies for the Tile and Stone Trades.
The history of Raimondi S.p.A. dates back to almost one century ago. Indeed, in the early 1900's the Raimondi family enters the Tile industry through the father of the founder, a master tile setter.
The founder Mirco Raimondi, apprenticed under his father and practiced the art until 1960, when thanks to the experience he gained on the job Mirco started producing machines designed to improve job quality and productivity while simultaneously reducing operator fatigue. Soon after he was joined by his son and current chairman Ivan Raimondi as well as his nephew Giorgio Sighinolfi (design manager). Through their foresight and leadership the company flourished, first in Italy and later abroad.
Currently Raimondi S.p.A. is a fast paced leader in the production of Tile / Stone machines and tools worldwide, exporting a large share of its production.
Through the years Raimondi S.p.A. has always adhered to three basic principles:
Quality; Innovation; Effectiveness.




Why the dogs ?
Since its inception in 1974 as "Raimondi Mirco s.n.c.", we have used as a trademark one which we felt would underline the qualities of "reliability and loyalty" - qualities the founder appreciated so much - thus identifying trademark for the newborn company became: the dog, "man's best friend" faithful, reliable, and loyal. In 1984 the company changed from Raimondi Mirco s.n.c. to Raimondi S.r.l., and a second dog was added to the first one: the latter, lively and bouncy represents the new company, while the first dog (who is enjoying a well- deserved rest) represents the previous company. In 2003 the company changed its status from S.r.l. to the current S.p.A. from limited liability company into joint stock company, keeping its trademark unchanged, that trademark having embodied the promises made almost 30 years ago.